UPPERCASE welcomes all: all colours, identities, ages, talents and abilities. We share an inclusive, positive and community-minded point of view. Everyone is welcome to explore our creative challenges and submit to the magazine—you don't have to be a professional.
By submitting to UPPERCASE, you confirm that you are the creator and author of the work and that you are not infringing on anyone's copyrighted material. You are allowing UPPERCASE to publish the work in print, digitally and on our website and in any related magazine productions and promotions.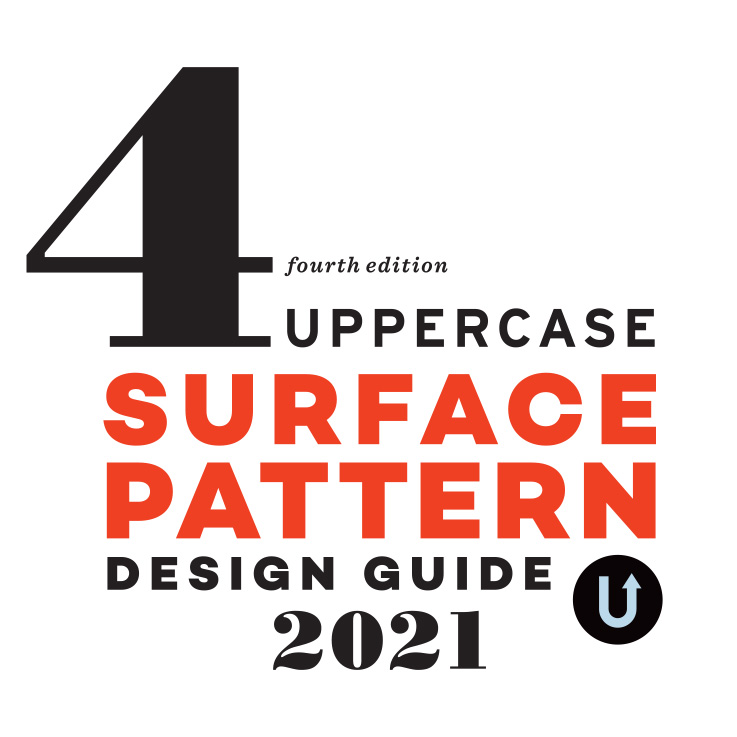 The fourth edition of the UPPERCASE Surface Pattern Design Guide will feature the best in up-and-coming and seasoned surface pattern designers. By being part of the guide, your work will be exposed to an engaged and active readership of art and design buyers, potential clients, collaborators and consumers.
100 artists will be included in the Guide.
Submitters will be also considered for an exciting list of opportunities including paid commissions from UPPERCASE, a fabric licensing opportunity with Windham Fabrics and other licensing opportunities to be announced soon!
Please submit new and/or recent work from your portfolio. If you were published in a previous edition of the Guide, you are welcome to submit new work.
The entry fee of $25USD is to cover the hosting and administration costs of this submission system and will also be pooled as payments to the artists selected for UPPERCASE projects. No refunds.
Read the submission form in its entirety so that you understand what is required. Then take your time in gathering your submission, uploading and submitting. You can save it as a draft before paying.
Once you've submitted, you cannot edit your submission or change the work submitted.
The form closes on January 20. Do not wait until the last minute to upload.
Submitters will receive a one-time use 20% discount code for anything in the UPPERCASE shop. Offer expires January 30, 2021.
Please note that if you are selected or contacted by one of the companies, you are under no obligation to pursue a contract. All negotiations, contracts and licensing details are between the companies listed and the artist—UPPERCASE is simply the method of making the match!
By submitting to this form, you acknowledge that the work submitted is your own and you are not infringing on the rights of any other artist or company. You allow UPPERCASE to publish your work in print in issue #49 and in various digital promotions of the Guide. You will also be added to the UPPERCASE general email list. You can opt-out at any time. thanks!
SOME CREATIVE ENCOURAGEMENT
Be unique! We're not looking for trendiness, we're looking for originality and expression.
Submissions are open to everyone, you do not have to be a "professional."
Surface pattern design does not always have to include repeat patterns, it is about surface decoration, too.
Designs don't have to be created digitally. If you're an artist who makes work suitable for surface design licensing, take good quality images of your work, following the guidelines in the submission form.
May 2020 note from Janine:
I've been pondering upcoming issues. UPPERCASE in print form is kind of like a refuge for people... a place to get lost in it for a while, to feel uplifted and motivated and inspired. So although I will certainly mention the pandemic in the editorial and in some reader submissions and as a context within some articles (I'm not trying to ignore its existence) I am very consciously planning content that isn't directly about the pandemic. So no stories about making masks, ppe, etc. or articles about "how to cope with the pandemic". I feel like that is adequately covered in online news media and throughout our Instagram feeds. It is hard to know what the mood/situation will be in the months ahead—and I curate content 3-9 months in advance of an issue—but do know what people expect from UPPERCASE and how they want to feel when they're reading it, so that's how I'm framing my editorial decisions.
You can pitch your own work, propose an article about someone else or suggest a topic that you would like to research. You don't have to be a writer. If your idea is excellent and/or your visual submission is amazing, we can pair you with one of our writers, we can interview you or find other ways to feature the idea or your talent.
Please make sure that your submission is suitable for UPPERCASE magazine. Some upcoming topics are listed below. If you have an idea that falls outside of these listed areas, your pitch is also welcome. Please do not submit the same idea multiple times.
authorship / writing
creative living / craft
design / typography
studios / workspaces
inspired by...
To be featured in UPPERCASE's weekend email newsletter "All About YOU" please fill in the following. Thanks!

By submitting to UPPERCASE you agree to receive our weekly newsletters. (You can opt out at any time.) You also agree that the work you are submitting is your own or that appropriate permissions are in place.


We'll be featuring tours of UPPERCASE magazine subscriber studios in the magazine and in the weekly newsletters. Share your workspace, studio or corner of the dining room... wherever it is that you create.
Share images of your sketchbook and creative process. Please photograph representative spreads of your sketchbook against a white backdrop so that we can see all edges of the book or page. You can also include images of your sketchbook in your creative workspace, stacked with others, in progress, with art supplies, etc.
Fresh! is a print and newsletter feature highlighting previously unpublished creatives.
Whether you're a fresh graduate or mature artist, it is often a dream to be published for the first time!
If you've never been published in print before, please share your work and I will endeavour to publish the best submissions in future issues and share your submission and links in my newsletter, blog or social media as well. (Please note that space is limited, so this is a merit-based selection.)
By submitting to UPPERCASE you agree to receive our weekly newsletters. (You can opt out at any time.) You also agree that the work you are submitting is your own or that appropriate permissions are in place.
UPPERCASE loves to feature people who have unique and interesting professions. Over the years, we've featured a voice artist, a vintage poster seller, a historical colour expert, a document forgery expert and many more folks with careers that touch on creativity and culture in unusual ways. These people have typically forged their own career paths, making a living doing things that are unique and definitely creative and curious. To be featured, please apply by answering this brief questionnaire. Thanks!
UPPERCASE loves to feature people who have unique and interesting careers.
For Little U magazine, volumes 2 and 3, I would like to profile some creative folks who work in creative children's industries such as toys (design, making and manufacturing), clothing (children's fashion), children's book publishing (illustration, writing and design), education (teaching, workshops, art classes, etc.) and more.
This form is for stockists who carry UPPERCASE magazine and/or UPPERCASE books. (Thank you!!!)
I would love to feature more of our stockists in newsletters and in print. Please fill in the following quick questionnaire to be featured.